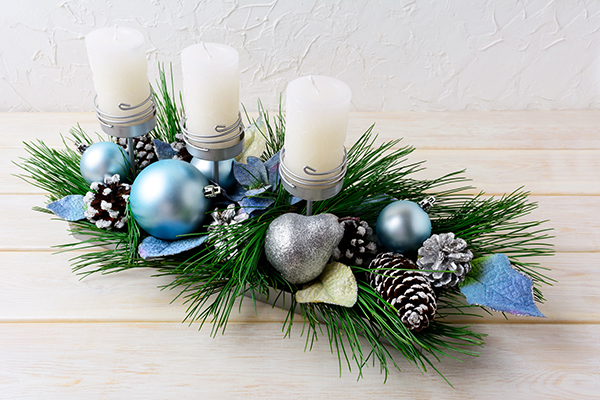 Christmas displays are traditionally made with evergreens, cones, and red berries. But it can be fun to break with tradition on occasion, while still creating a display that will retain the feel and atmosphere of Christmas.
In most dining areas and some living spaces, lighting is a bit dimmer than you find in other areas of the home. This makes for a perfect place to light the candles in your display and invoke the mood of Christmas.
Anyone who loves traditional styling will approve of this scene: a decorative festive tablecloth, sweet treats, and ribbons reflecting the candlelight bathing the scene with the shadows of the season, warming the room and creating a coziness that is irresistible.
As family gathers 'round, they are reminded at dinner of past good times, bringing, symbolically at least, the spirit of Christmas to this festive meal with friends and family.
This glowing display of dried flowers and cones, sprayed with gold or silver paint, makes an eye-catching feature whether at the center of a dining table, as a centerpiece in a sitting room, or virtually anywhere around the home.
Feel free to substitute your favorite types of dried flowers or other items you would like to have in your display. One of our favorite items to add to displays around the holidays are sprigs of holly with beautiful bright red berries. The possibilities are endless here.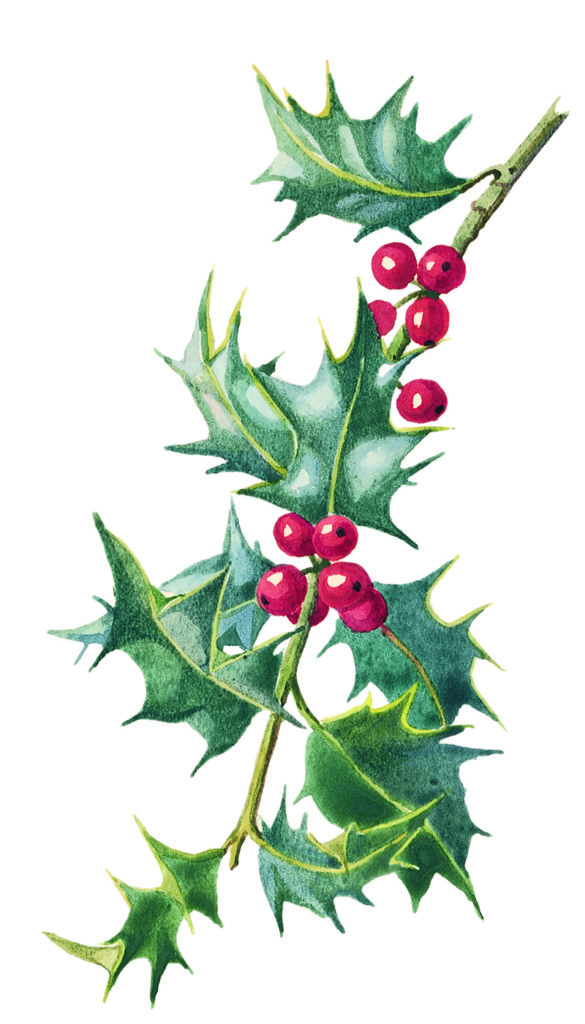 You will Need:
A basket, flower vase, wooden box, or some method of display
12 fir/pine cones
Several springs of Holly with berries (optional)
Three dried Peony or Poppy heads in full bloom (or flower of your choice)
Dried or fake leaves of choice (or another flower of your choice)
Dried grasses
Gold or Silver (or any color of your choice) spray paint
Candles and candle holders, depending on how you plan to display
Dried leaves, hazelnuts and acorns would also make a beautiful accent to this piece, whether you leave them as they are or touch with the spray paint.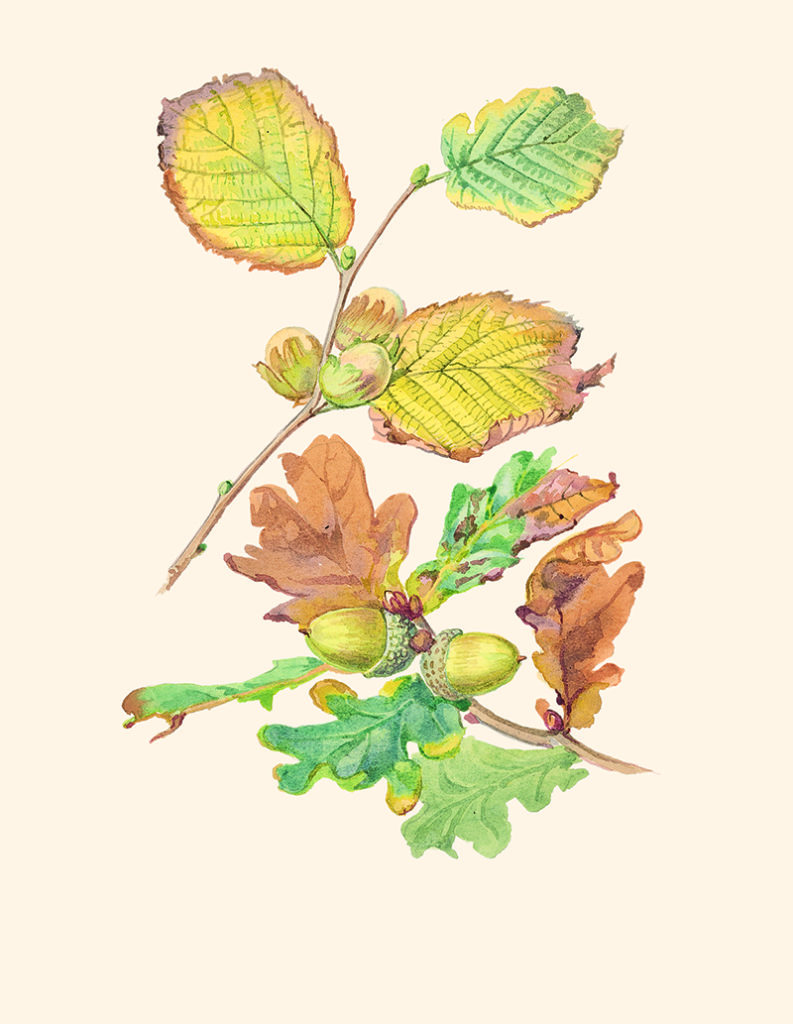 Additional optional items:
Stems of Chinese lantern pods
Dried cotton plant stems
Eucalyptus Pods (these add the perfect scent)
Dried/Fake Fruit
Christmas Ornaments (balls, stars, or anything to complement)
Colors of glitter or glitter spray paint
Ribbon or other garnishments for the candles and basket
Directions:
Take plenty of newspaper and place it on the floor or over a large work surface. If you have a work area outdoors, that is ideal to help to avoid any mess. If you do spray inside, remember to check that there is plenty of ventilation for the fumes by opening a window.
Place one type of dried material (flowers, cones, etc.) onto the paper and spray it as evenly as possible. Leave it to dry for a few minutes – it will be fairly quick if you do not saturate the material.
If you are using glitter, you can sprinkle it along with the wet paint or use a spray adhesive.
Turn the same material over and spray the other side, also giving it time to try.
Follow the same steps with the other dried plants, bulbs, etc… that you would like to spray paint one or more of the colors for your display.
Once all of the items for decoration have been sprayed, arrange them in your basket, vase or display of choice.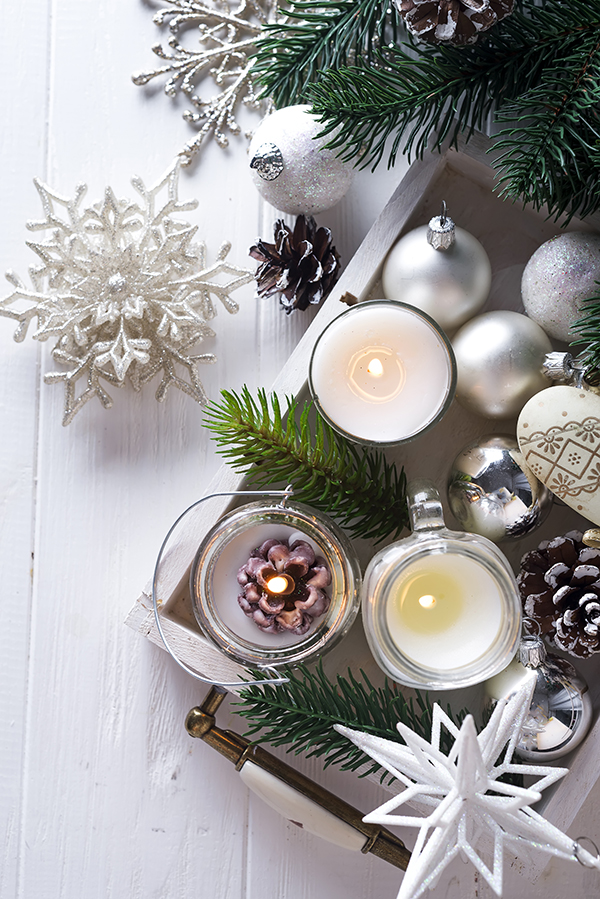 Alternatively, if you want to make a display that is fresh and inviting with a little less paint and glitter, you can opt for something a little less traditional but still beautiful. Use the painted cones and leaves but pair them with fresh grass and fresh flowers. Add in any other family heirlooms or elements that will invoke the Christmas spirit in your friends and family.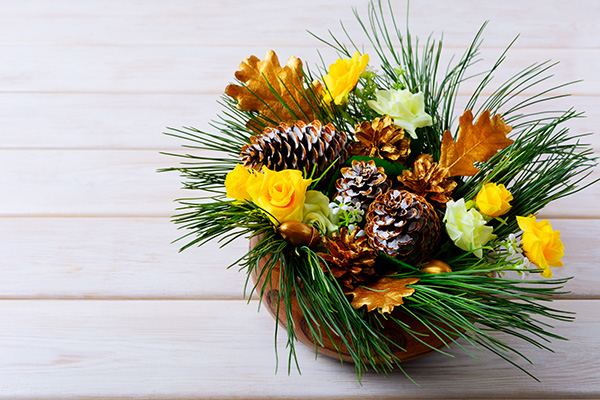 We would love to hear about any traditions or decorations, conventional or otherwise, that your family and friends use to celebrate the season each year.
The Country Diary of an Edwardian Lady ™ © Rowena Stott (Designs) Ltd and Lilytig Ltd 2018